You are viewing our forum as a guest. For full access please

Register

. WindowsBBS.com is completely free, paid for by advertisers and donations.
User Guide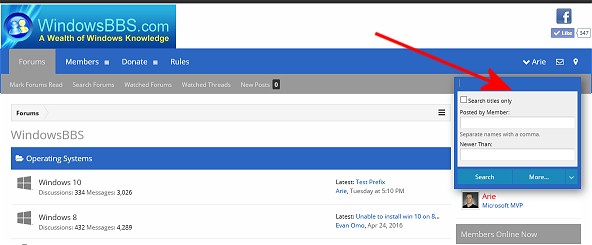 Use the search engine before posting!

Before posting your question, use the search function, and see if your question has been addressed before. Enter some keywords that apply to your question (such as error codes), and do a search.
To enter a search, start typing in the box labeled Search. To limit your search to a specific forum, you can click on the button More.... This will open the advanced search options.
Another option is to navigate to the appropriate forum (for example if you have a question about Windows 7 you'd navigate to that forum), and from the forum main page use the Search function to search the specific forum ("Search this forum only" will be checked by default).
---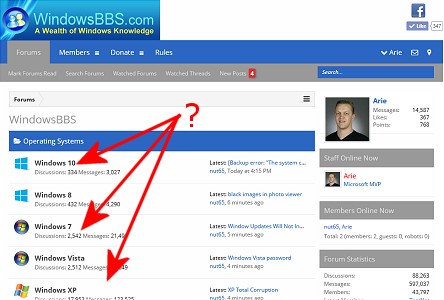 Post in the Appropriate Forum

To post a question or start a new discussion about a particular topic, first choose the most appropriate forum. For example, if your question is dealing with 3rd party software (MS Office, Lotus, Games, etc.) do not simply post it in the Windows 7 forum just because your windows version is Windows 7. These questions belong in the Other PC Software forum.
Only post the same topic in one forum - posting the same topic in multiple forums isn't allowed. Posting the same question in multiple forums serves no purpose. It will make things harder to follow, because it is likely you will get different suggestions from different members who may not know what had been suggested in the other forum.
---

How to post a new question/discussion item

A question or discussion post is known as a Thread, so if you want to post a new question or discussion post, click the Post New Thread button - after choosing the appropriate forum.
An individual message within our forums is known as a Post. Posts are grouped together to form discussions about a particular topic or question, known as Threads.
When starting a new thread, make sure you follow our Posting Rules.
In almost all cases you should start your own thread, even if your problem seems similar to a recently posted problem.
---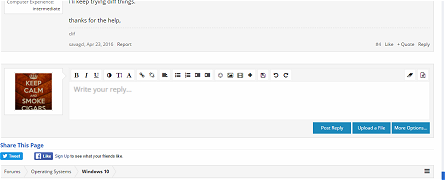 Add to a discussion by posting a reply

To continue adding to a discussion, scroll to the bottom of a thread and enter your reply in the reply box. When done, click the "Post Reply" button to add your comments. Remember, replies should not be new questions or new topics, but simply comments to what has already been posted in the thread.
You can also click the "More Options..." button to preview your answer or to uncheck the options to receive notifications when there are further updates to the thread.
Replies should also confirm to our Posting Rules.
If you have received an answer to your question/problem, please post back if the suggestion helped you or not.
If you were given several suggestions, mention which suggestion worked for you. This will help other people in the future!
---


Smart Quoting

When replying to a post, do not quote more from the previous post than you have to. Don't quote the complete post!
When you reply to a post that is the last post of the thread (which means your reply will be directly below it) there is usually no need to quote anything.
The forum software allows you to select text of any post that you would want to display as quote. If you want to add multiple quotes, click on the + Quote sign, otherwise you can just click on Reply.
---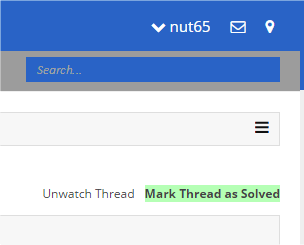 Mark your Thread as Solved

It is considered courteous to post a reply if you have been able to resolve your problem, or received an answer to your question.
If you were given multiple suggestions/solutions, it is also helpful if you would list the solution that worked for you.
Once you have posted those details, when still looking at your thread, near the top (and bottom) of your thread you'll see the text Mark Thread as Solved. Click on it to mark your thread as solved.
If later you find that the problem has returned, and you had previously marked your thread as solved, follow the steps above. Instead 'Mark this thread as solved' you will see that in this case Mark Thread as Unsolved is displayed.
Note: The option to mark your thread as solved is only available when you are logged into your account. Not all forums (notably the Malware Removal forum) have the option to mark your thread solved, so if the option is missing it is likely not available for that forum.